Knowledge Translation of Qualitative Research, the key to Patient Centred Care (30 min)
Qualitative studies in orthopaedic physiotherapy are rarely published and if so, are relegated to the basement of the evidence hierarchy pyramid. Unsurprisingly, practitioners are unaware of or misperceive the potential benefit of qualitative studies to inform sound practice. Qualitative data can tell vivid, memorable stories from patient and clinician perspectives. Appropriate knowledge translation from this research can act as a complement to quantitative findings to improve the feasibility of putting evidence into practice by appreciating biopsychosocial factors from the patient's perspective, allowing more complete patient centred care. This session will outline paradigms and worldviews that contrast qualitative and quantitative research methodology and data, describe the purpose and complementarity of qualitative and quantitative data, and use case studies to demonstrate integrating qualitative and quantitative data.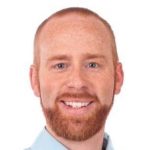 Bio:
Nathan King is an FCAMPT, educator and current PhD student in educational studies. His goal with teaching and patient care is to help people help themselves. This passion to educate and empower others continues to drive him to continually teach, learn, and value the connection with each student and patient.