Posterior Shoulder Instability Classification, Assessment, and Management: An International Delphi Study (30 min)
OBJECTIVE: To reach consensus among international shoulder experts on the most appropriate assessment and management strategies for posterior shoulder instability (PSI).
DESIGN: Delphi.
METHODS: In phase 1 of the study, we reviewed the literature, generated Delphi items, created the survey, and identified clinical experts.
In phase 2, clinical shoulder experts (physical therapists, orthopaedic surgeons, sports medicine physicians, and researchers) participated in a 3-round e-Delphi survey. For consensus, we required a minimum of 70% agreement per round. Descriptive statistics were used to present
the characteristics of the respondents, the response rate of the experts in each round, and the consensus for PSI classification, assessment, and management.
RESULTS: Round 3 was completed by 47 individuals from 5 different countries. The response rate ranged from 57/70 (81%) to 47/50 (94%) per round. Respondents agreed on 3 subgroups to define PSI: traumatic (100% agreement), microtraumatic (98% agreement), and atraumatic (98% agreement).
CONCLUSION: International shoulder experts agreed that the clinical presentation, management strategy, and outcome expectations differ
for traumatic, microtraumatic, and atraumatic PSI. Their recommendations provide a framework for managing these subgroups, with additional consideration of sport and work participation and subsequent risks.
J Orthop Sports Phys Ther 2020;50(7):373-380. Epub 29 Apr 2020.
doi:10.2519/jospt.2020.9225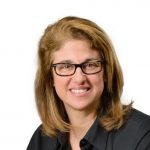 Bio:
Jackie Sadi (PT, MSc, FCAMPT) is a licensed physical therapist and a full –time lecturer in the School of Physical Therapy at Western University in London, Ontario. She is a graduate of Western for both her BSc (PT) and MSc. She is a recent recipient of the Canadian Physiotherapy Association "Clinical Specialist designation in Musculoskeletal Physical Therapy" and is an assessor within this program. Her main duties are teaching orthopaedic, manual and manipulative therapy theory and clinical skills to students in the Masters of Clinical Science Comprehensive Musculoskeletal Physiotherapy Field (MClSc–CMP) using a clinical reasoning model. She also assists with the supervision of MClSc and MPT students doing research in orthopedics. She co-owns Full Motion Physiotherapy Consultants and has practiced as a physiotherapist within industrial and sports clinics for the last 34 years. She has an Advanced Diploma in Manual/Manipulative Therapy (FCAMPT) and has taught, mentored, and examined students in the Orthopaedic Division of the Canadian Physiotherapy Association (CPA) Manual therapy courses for the last 20 years. She was the proud recipient of the CPA-OD David Lamb Golden Hands Award in 2017.
---